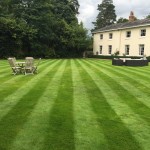 We have had a hot and dry April here in Surrey!
The month of May is just around the corner followed by Summer, however UK lawns it has felt like summer arrived weeks ago. With all this hot weather and lack of any rain, you may find your selves with the inevitable browning of the grass. This may be more of a problem if you have had the lawns scarified later into the dry spell than others. So its our advice that you get out and water the lawn if we have any further dry spell though May. Just remember, the grass is not dead, it has simply chosen to go into a survival mode, by diverting what moisture it had to the vital root system, just beneath the top layer of soil. Grass knows that the rain will have to come eventually, so it has gone into hiding to wait it out. By watering the lawn, you will simply reverse the process and the grass will (after a few weeks) start to grow fresh new shoots. No real lasting damage has occurred, other than stressing the grass a little, and now the brown dead parts will have to be scarified out next spring.
Cutting the lawn on a higher setting is a good trick in times of drought too. Simply raise the mower up by one setting. Also the frequency of the cuts can be reduced. These 2 actions will help the grass plants to stay healthier through the tough dry spell, by stressing it far less. If the grass is longer, then it has more of the leaf to convert sunlight into sugar for the roots, and by cutting it less, it has to spend less time and energy heeling itself.
If you need any advice on how to cut, water or treat your lawn please do not hesitate to contact us.
Charlie Metcalfe
Director, Total Lawn Care TLC Limited