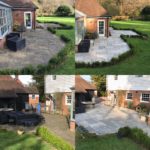 Total Surface Cleaning in Surrey
Surrey Total Lawn Care Ltd has invested in professional Patio cleaning and Drive way cleaning equipment so that we can help you to keep your gardens hard surfaces clean and safe.
Our expert rotary head pressure washer is designed to clean any hard surface. From patios and pool surrounds to large parking areas. We can even clean walls and fences, not to mention decking areas.
Areas that we can clean include; Patios, Drive ways and Foot paths.
Surfaces include;
Block paving
Tarmac
Natural stone
Walls
Fences

Decking

Tennis courts (note that power sweeping is available for tennis courts)
Hard surfaces like block paving drive ways and stone patios will inevitably get dirty over time. Along with the dirt, a mixture of algae, moss and lichen can build up making your out side space look tired and miserable. Not to mention slippery and dangerous when wet. We at Surrey Total Lawn Care Ltd have a few solutions to remedy this, and turn your garden space back to its best.
TLC offer annual Weed control for all hard surfaces. This 2 step application is designed to keep your drive way, foot paths and any other areas where weeds are a nuisance weed free. Total weed control

Pressure washing for all hard surfaces from our commercial grade pressure washer with rotary technology, is available throughout the year. This service can be added to an annual lawn care package (5 step perfect lawn plan)
Power sweeping for tennis courts and other large areas. An industrial sweeper is used to clear and clean moss, and other debris from any hard surface. Ideal for when the surface is heavily covered in moss and built up dirt.
No chemicals are used in the patio cleaning process, however, we can also provide an algae, moss and lichen control product. This can be very effective on some surfaces that can easily be damaged by the use of water pressure.
We can even remove oil stains from drive ways with the help of oil remover. Leaving you with a fresh new looking drive way. (Far cheaper that a new one)
Pressure washing using a rotary system, is simply and device that is attached to the end of the lance on the pressure washer. This devise is like a large upside down plate on wheels. Underneath there are 2 nozzles that spin round, and it is these that do the cleaning. Unlike domestic pressure washers, our commercial grade washer can be adjusted so the we don't damage the surface that we intend to clean. The rotary cleaner also reduces the mess that is usually involved when using a pressure washer, as it keeps the water and mess contained via a brush that goes around the rim. Just leaving the residue for our expert to tidy up at the end of the job.
So if you are looking for patio cleaning in Surrey, look no further.
For more information about our patio cleaning and drive way cleaning services, or to obtain a quote, please contact us
Comments or questions are welcome.