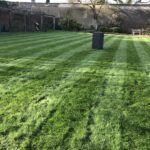 Does Your Lawn Need – T.L.C ?
 Hello! And welcome to the online home of Surrey Total Lawn Care!
We at T.L.C have been caring for lawns in the Surrey Hills vicinity since 2009 as part of our gardening business: Hedges Edges and Lawns People (H.E.L.P) that was trading from 2006. We are delighted to be currently offering a truly professional, independent lawn care, weed control and grass cutting service that covers most of Surrey and into West Sussex. We pride our selves on our tried and tested lawn care program that has been developed by our selves after many years of lawn care.
By using professional products sourced from the leading sports turf specialists we are able to offer a bespoke lawn care program, based around the needs of the domestic lawn. We understand that domestic lawns have a different use and need to be cared for in a different way to sports turf.
Using our knowledge of the sports turf industry we have designed an annual lawn care package (5 step perfect lawn plan) around the needs of the domestic lawn, using professional equipment and high quality products to give your lawn the tlc that it needs, helping it to grow healthy and improve the over all look of the grass.
The aim of lawn care is to promote good mowing practice and introduce good management of nutrients, air and water, to help create a healthy lawn. A healthy lawn will be able to fight disease and recover from pests much faster. This outlook is better for the environment and better for the customer. We like to build a good relationship with our customers, as lawn care requires both parties to work together to achieve the best results.
Truly professional, independent lawn care.
For up to date progress and pictures of Total Lawn Care in action, please go to our facebook page by clicking here.